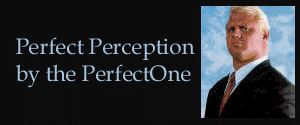 Welcome to an all new edition of the Perfect Perception, where I will dispense my expertise and thoughts on the current state of wrestling. There will be several sections to this column, including Backlash thoughts, Hulkamania, and the nWo.
Backlash
I went 6 for 9 (.667) on my Backlash predictions. I was quite surprised that the man, I mean Jazz, was able to defeat Trish Stratus to retain the Women's Championship. No one cares about Jazz, and by putting her over constantly, the Women's Division will only continue to suffer. The WWF needs someone like Trish or Molly Holly to have that title in order for it to mean anything to the fans. Both these ladies are quite over right now, and would be better champions than Jazz.
Although I picked Bradshaw to win, I'm glad to see that the nWo was able to finally win a match. These guys are the top heels (other than the Undertaker) on Raw, and need to be credible. If they continually lose, they will never be seen as a legitimate threat. More on the nWo later.
Eddie Guerrero as Intercontinental Champion should be interesting. Latino Heat seems to be back and better than ever. Hopefully his personal problems are behind him. As I said in my predictions, the RVD-Guerrero feud will continue. By the way, what is up with RVD pinning Mr. Perfect this week on Raw? Oh well, that match didn't count anyway.
Hulkamania is running wild
This section is probably going to get me in trouble with the internet fans. But why, oh why, is everyone continuing to complain about Hogan being the champion? Yes, he is old. Yes, he probably doesn't have many more matches in him. Hogan knows that. The WWF knows that. Hell, it was even acknowledged on Raw this week that he probably will not have an extremely wrong title reign. However, whenever Hogan steps onto the stage at a show, the fans go CRAZY for him. Right now, Hogan is one of the most "over" people in the business. Why shouldn't he be champion? Triple H, while he is over, has a bad leg and doesn't have the fan support that Hogan has right now and has had in the past. Think about it. Fans that haven't watched the WWF in years may learn that Hogan is the champ again, and may tune in to see what is going on. In the mean time, they can get hooked with other storylines and new/returning fans are created. Triple H has only been a major player for the past couple of years, so he cannot really regenerate fans from the past like Hogan can.
Also, I'm seeing a lot of people on message boards and columns bashing Hogan because he can't perform too well in the ring. Yet, these are the very same fans who, at WrestleMania, thought that the Rock-Hogan match was one of the best of the year. In less than thirty days, these people have forgotten about this match and are claiming that Hogan as champ will be a waste. Although the idea of an Undertaker-Hogan match is a neat idea to historical fans such as myself, I am also aware of the fact that these two alone probably cannot generate the excitement as Hogan having another opponent or opponents for the title. Hogan, in order to look good, must be in the ring with a younger competitor that can help compensate for his age. This does not mean that Hogan needs to be carried, by any means. But a Hogan-Rock, Hogan-Y2J, Hogan-Triple H, Hogan-Austin, or even Hogan-Angle match would be entertaining.
I would never consider myself as a Hulkamaniac; hell, Hogan would not even make my Top 5 favorite wrestlers of all time. But when he came out to Raw on Monday, I must say I had chills. Seeing Hogan, as champion once more, was almost a breath of fresh air. So often, the WWF champion is a "bad ass." Hogan brings back some prestige to the title that has not really been seen since the days of Bret Hart or Shawn Michaels (pre-DX). It should be an old-school fan's dream. But I must say this, Hogan's run as champion should, and probably will, be over by SummerSlam. I actually do not see him getting this far to tell you the truth.
nWo-For Life
Aaah yes, the Big Show has joined the New World Order, yet again. This is not necessarily a bad thing. Big Show, when motivated, can compete in some decent matches. However, he has not really had a platform to wrestle any top competitors since returning to the WWF after losing some weight. People complain that he always beats his smaller opponents into oblivion. Well, get this...He's supposed to!!! He is a Giant! Much like the great Brock Lesnar, you won't see this guy being beaten by 240-260 pounders too often, unless they are the best of the best. People say Big Show has no athletic ability. Well, for being as big as he is, he still moves around quite well, and now that he's a heel again, maybe his intensity will pick up once again. I even believe that he is more agile than the late, great Andre the Giant, and he was adored by the fans to this day! So why, is the Big Show so horrible? I would really like to know. Big Show joining the nWo is a good thing, and will give the nWo some steam to run off of, because lately they have been lacking as a threat in the WWF.
Miscellaneous thoughts
I was quite happy to see a tribute of sorts to Owen Hart on WWF.com this week. Owen was one of my favorite wrestlers, and since the WWF held a PPV at the location of his unfortunate accident, it was good of them to remember him. Owen was always a bright spot in the WWF, and never was he a "nugget." May he rest in peace. We miss you Owen.
What is up with Austin and Flair? As long as it doesn't turn into another Austin-McMahon feud, I will be quite happy. This angle is very interesting.
We need to see more mid-card on Raw. D-Lo Brown needs to make his return...soon! This former Euro-Continental Champion (although Kurt Angle doesn't seem to think he counts) can make a big impact, but can't do so if he's never allowed to compete on TV. I think Booker T should win the European title, if the WWF insists on not having him at the top of the roster right now, and should work a program with D-Lo. I would think it would be quite interesting.
Booker T and Goldust are quite funny together. I never would have guessed it. Hopefully it won't be dragged out too long, because, although it was funny at first, I have a feeling it could get stale real quick.
I would greatly appreciate your comments on this column. I have a feeling I will have enraged someone with my thoughts this week. Let me know what you think, and I'll try to post some of your e-mails as well as a response to them. E-mail me at perfectperception@hotmail.com. And unlike the old show Livewire, I won't try to censor what is said.