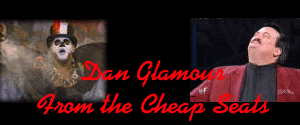 Hello my name is Dan Glamour; I usually start off my column with some kind of introduction. I can't really think of anything intelligent to say. Of course, for some people, nothing that I have to say is intelligent.
Oh joy, RAW starts off with an interview from Ric Flair. I fully expected Ric Flair to do his Stephanie McMahon-Helmsley impression and bitch about "Stonecold" Steve Austin. It turns out though that Steve Austin didn't even bother to show up. Or according to http://www.lordsofpain.net, Steve Austin did show up but then left with Debra and went home.
So much to my chagrin, Steve Austin would not have the same impact that he had last week. Then all of a sudden Vince McMahon comes out. Great…THIS IS NOT FREAKING SMACKDOWN VINCE!!! To my surprise, Vince made some sense tonight. RAW does suck compared to WWE Smackdown. The split has been a failure at best because Smackdown got most of the big name talent. Steve Austin has not been used properly. Too many people on RAW have been hurt and/or fired.
Vince dropped a bombshell on Flair. He challenged Ric to a No Holds Barred match for sole ownership of the WWE. Ric Flair accepts and it seems that he is turning face again. What the hell? This is really screwing with the current direction in the WWE. Does this mean the end of the split rosters?
The NWO segment with all of the members standing outside of the NWO locker room while Shawn Michaels has his private time was stupid. There was no point expect to show that Shawn Michaels is an ass. Do me a favor and speak already. Why did you join the NWO?
I was trying to think of a name for the team of Spike Dudley, Tommy Dreamer, and Planet Stasiak. I mean it is obvious that these three jobbers were just thrown together so that X-Pac, Booker T, and the Big Show could get the win. I think the only names suitable for that team is "The Jobbers" or "The Hasbeens". Booker T did his "Spinaroni" after the match, which indicates to me that his days in the NWO are numbered. Booker T doesn't fit into the NWO.
Booker T has helped it though. Booker T and Goldust have made the NWO interesting a little. Speaking of the bizarre one, Goldust dressed up as "Undercover Brother" to warn Booker T about Shawn Michaels.
Hey Trish, nice job with that promo against Molly. "Junk in the trunk" never sounded worse. Now I am going to be staring at Molly's ass the entire match.
Chris Benoit, Eddie Guerrero, and Ric Flair have a little pow wow. Good job, guys. That is what heels do. Heels are always unsure of their actions and these three as a team can be the top heels of the WWE.
Chris Harvard from Tough Enough 1 helps out William Regal in his match with Bradshaw. Regal used the "Power of the Punch" to pin Bradshaw. Nobody decided to come down and pin Bradshaw for the Hardcore title. I thought for sure that Bradshaw was going to lose it.
If I am any of the winners of the Tough Enough competition, I would be a little upset with Chris Havard's appearance. It doesn't matter if you actually won Tough Enough. You can still get a WWE contract.
Great I have to deal with another Women's match. And on top of that the match is all of a sudden a non-title match. Nice going, way to keep my interest. Molly wins after…I don't know…a but splash to Trish. Then Molly chokes Trish with her own panties from last week. Here's a thought Molly, why don't you rub them in Trish's face? Hell there is probably people that like getting choked by a pair of panties.
The "Stooge" Arn Anderson confronts Vince McMahon. Nice job Arn, way to be intimidating. Another wasted segment.
Hey kids!!! Let's watch Rob Van Dam wrestle Eddie Guerrero again. This time it was a King of the Ring qualifying match. Both competitors weren't as good as they usually are. I am a big fan of both of these guys but I didn't enjoy the match. The ending was horrible too. What was up with that? That was a totally blown call by the referee. I smell a rematch.
Here comes the Undertaker, on his motorcycle no less. I bet he is going to beat the shit out of some midcard wrestler. The Undertakers come out and does his respect speech. Then Matt Hardy comes out and calls out the Undertaker for attacking him in the locker room after week. He has a ladder with him too for some reason. Jeff Hardy then tries to sneak attack the Undertaker but gets caught in the choke slam. Matt comes down and starts brawling with the Undertaker. Jeff gets up and they double team the Undertaker. Matt and Jeff grab the ladder and clothesline the Undertaker with it twice. Then in Hardy Boys style, Jeff hits a leg drop off of the ladder. Now that segment was something different. Nice to see the Undertaker get his ass kicked.
I said that I liked the match between Bubba Ray Dudley and Brock Lesner several weeks ago. This one was okay but I did not have any doubts in my mind that Brock Lesner was going to win. This was also a King of the Ring qualifier.
Paul Heymen comes up to Vince McMahon and talks business with him. Vince meets Brock Lesner and then Paul Heymen gives him a business card. This is an interesting development.
Hey kids, the Rock is coming back some day. Whatever.
Finally Shawn Michaels speaks. I liked the promo that he cut expect he was four years too late. Shawn made it sound like Wrestlemania 14 was in March instead of Wrestlemania 18. Shawn is bitter at the fans for embracing Steve Austin and abandoning him. There are a whole bunch of holes in Shawn's story though. I'm not going to explain them all. I will mention Shawn Michael's role as the commissioner as an example.
Shawn Michaels literally kicked booker T out of the NWO. That has to be the loudest superkick ever. I made an observation last night too. African Americans never make it in the NWO. Think about it, the only other African American members were Vincent (Virgil) and Stevie Ray. They never amounted to anything. I wonder if it is coincidence?
What a horrible match between Vince McMahon and Ric Flair. They both looked sloppy and missed a whole bunch of spots. I enjoyed their match at the Royal Rumble but this was nothing like it. Ric got bloodied up. Earl Hebner must not have realized that it was a No Holds Barred Match because he kept warning Vince and Ric whenever they cheated. Arn Anderson decides to come down and taunt Vince while he is locked in the Figure Four leglock. All of a sudden, Brock Lesner comes down and stares at Arn. Arn runs away like the "Stooge" that he is. Brock attacks Ric Flair and allows Vince to get the pin and sole ownership of the WWE.
Tonight's RAW was watchable. It leaves me with a lot of unanswered questions. What happens to the Split now? What happens to Ric Flair and his boys? Will we be subjected to another Rob Van Dam vs. Eddie Guerrero match? That's all from me. Talk to you again next.
Peace Out,
Dan Glamour