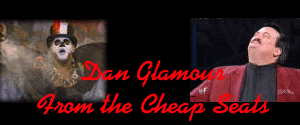 The Outside Influence-April 9, 2002
And now the...Outside Influence!!!
I had some stuff to do this evening during WWF RAW so I am watching the show on a tape delay. Unlike TSN, I won't have anything censored out of the show even though I am not watching it live. And another thing that is good about watching RAW on tape. NO COMMERCIALS!!! No Carrott Top, no truth.com, and no trailers about movie and don't want to see.
The Split continues. Hulk Hogan vs. Triple H at Backlash? That doesn't make any sense. I read the Smackdown spoilers because I live in Wheeling, West By God Virginia for the moment. If I am the Rock, then why would I put Hulk Hogan over for a title shot against Triple H. I know the Rock is dying for another run as WWF Champion, especially now the Scorpion King will be premiring.
And another tihng would the WWF really put the title on Hulk Hogan, one more time? If this goes down as planned there is no way the Triple H loses the title. Hulk Hogan is only in the WWF now to put over current talent. That is exactly what his Wrestlemania XVIII match against the Rock was all about. I doubt that his match against Triple H at
Backlash would go over as well. Hulk and the Rock have a lot of mutual respect for each other. Hell the comparisons between them are scary. Anyway, this is a column about RAW so I am going to shut up now.
I'm glad that the Undertaker got to ride his bike to RAW. I can't blame the Undertaker for being pissed. But he's starting to bitch as much as Stephanie McMahon.
Two number one contender matches? Just skip them and have the match that everyone knows is going to happen anyway…the Undertaker vs. Steve Austin…again!
"Play that funky music for this white body". I don't think that Bubba is technically white in the first place. He is a Dudley, one of the most inbred wrestling families ever. Bubba sure dances like a white boy though.
What the hell is a "cretin"? And who is Spike Victory? William Regal has obiviously been talking to Lilian about his mic skills.
Great another X-Pac vs. Kane match. I thought that they had exhausted all of the possible gimmick matches that they could have. Pinfalls Count Anywhere match.
Man, I really thought that the NWO wasn't going to interfere. Nice ending though and it adds a different dimension to the Kane/NWO feud. Kane got unmasked and Hacksaw Jim Duggan is going to sue Kevin Nash for gimmick infringement.
Everybody is suing everybody tonight. Oh by the way, being suspend indefinitely means you are injured or you are going to shoot a movie.
I blinked and now Spike Dudley is the European Champion. I will tell you what though. They really are pushing those damn 7-11 Slurpees. Tiger Al Singh will be making a Smackdown appearance for sure now.
Nice job Lilian, you messed up again. Rob Van Dam vs. the Undertaker is not for the number one contendership at Backlash. That's okay though because you are a piece of ass.
"Prepare to fast forward. FAST FORWARD". Eddie Guerrero interfered allowing the Undertaker to get the win. Big shocker there.
Quit showing Jazz's black eye. She's bad enough to look at as it is. I should know, I've seen her up close. The black eye does not help. At least she didn't talk.
Molly is very good looking for the record. Todd creams his jeans every time he sees her. Molly's probably the only decent women's wrestler in the WWF. Do you think that anyone else could have come up with that creative pinning combination?
Paul Heyman is Brock Lesnar's agent? Why not just call him a manager like they did in the old school? But instead of putting over Brock the whole time, he puts himself over too. Someone please keep the dictionary away from Paul Heyman. He was really stretching for adjectives.
Did you hear those chair shots by the Hardy Boys on Lesnar? And Brock didn't even fall down. That poor chair.
Mr. Perfect vs. The Big Show. Time for a bathroom break.
Ric Flair managed to ruin the rest of RAW for me when he told Austin his plan in his office. Just like my damn brother did when he ruined the ending of Sixth Sense for me.
My rating for RAW is that if this keeps up there is no way I am going to watching RAW at Mike's on May 20. It was a very predictable RAW. The only really good thing about RAW tonight was the fact that X-Pac finally decided to take Kane's mask from him. I was very disappointed in tonight's RAW. We finally have another match for Backlash though. Steve Austin vs. The Underaker. Great, I've never seen those two wrestle before. The WWF needs to add some sort of twist. How about they bring back Debra and Sara for this match? Can you say catfight? I know you can.
Peace Out,
Dan Glamour