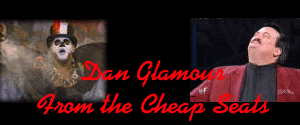 The Outside Influence-March 4, 2002
After a week of fun in the sun in Fort Lauderdale, Florida, I'm back for another edition of the Outside Influence.
Let me first apologize for not having a replacement to write a column for last week. It's my fault, I waited until the last minute to find someone. That person was having computer problems and I didn't know about it until I returned last Saturday. So again I dropped the ball as Buff Bagwell has so many times.
I didn't see any wrestling last week so I might be a little puzzled during this column. I do have one wrestling related comment about last week.
I was in a convenient store on Monday night. They have some televisions in the store and two of the most stereotypical people were working at the convenient store and watching Fear Factor. Since the girls I was with were looking around (and you know how long that can take), I was watching the last pair of the show with these guys, who couldn't have been United States Citizens.
First of all, there was no doubt that Matt Hardy was going to complete the course. I mean, Matt is used to heights and it wasn't like he was going to get himself killed. As if balancing and jumping on tall wooden poles and then placing flags on them weren't enough, the bastards at Fear Factor had to make it rain.
Jackie was such a disappointment though. I couldn't believe it. Jackie chickened out. Jackie is afraid of heights. No wonder, women's wrestling sucks. The only woman willing to do so off the top rope moves is Lita. Jackie, you'd better quit wrestling right now. I mean being a professional wrestler requires that you do a little "flying" now and then. I just hope she doesn't read my column and come over and kick my ass.
Can someone please tell me if half the WWF roster is in Asia or not?
The WWF is ruining Booker T, did you see how fast he ran out of the ring when the NWO came down and attacked Steve Austin? The WWF needs to push Booker T to the moon.
I'm glad that Scott Hall is adding new dimensions to his character. Instead of using a taser on Austin, Scott Hall used a wrench. That haven't seen an assault with a wrench that bad since Kane beat Vader with a wrench at No Way Out 1998.
Finally Scotty 2 Hotty executed the "perfect" Worm. He hit Test with it and then got pinned by the Perfect Plex. But did Rikishi then execute the perfect Stink face?
Why isn't Test signed for a Wrestlemania match yet? He's a Canadian, for Christ sake. Where the hell are Lance Storm and Trish Stratus?
What is worse? Having to drink Budweiser or having Scott Hall as the designated driver? It seems that everyone is wondering if Scott Hall is actually going to drink on television.
You know I wonder if Goldust was a movie buff before he became Goldust? Tazz should have won the Hardcore Title but of course he pulls a Big Show and gets pinned by the Bizarre One. What bizarre is how bitter Tazz is against the Tough Enough contestants. Tazz talks trash to them and then he rides in the back of truck while he makes the new contestants run behind Tazz. Hey Tazz, I think you need to do a little running of your own.
If this was the DDP that first came to the WWF, then DDP would have taken the cash too. Christian and DDP need to make a run for the tag team titles. Winning a title would bring back my confidence.
Sucks to be a ring crew in the WWF. He must of have gotten a bonus for the beating he took. I think that guy must have flicked off Scott Hall when the cameras stopped rolling.
I must be dreaming, there was a decent women's title match. Of course, it was Jazz vs. Trish Stratus again!!! Trish went Ken Shamrock on Jazz after the match. Too bad she didn't take out a couple of referees and some officials either.
Hey Stephanie, I use that same lotion. Have Chris Jericho get me a bottle of that lotion too. I got sun burned while I was on vacation, so I need it quick. And was I the only one that got the "large box" remark by Triple H?
Why doesn't Jim Ross just call Tom Prichard, Zip? The Undertaker must have had a talk with DDP about stalking family members. Just like in WCW, David Flair sure knows how to take a beating. The WWF Development talent must think that the Undertaker is going to join with Billy and Chuck soon. What kind of man takes another grown man into a room and tells people not to come in? Maybe Pat Patterson but not to many other people.
I've seen a lot of Carrot Top and Resident Evil commercials this evening. Why not combine the two? You could have Carrot Top being slaughtered by those dogs that look like that they got a bucket of red paint dumped on them.
How can Jerry Lawler be the Bob Costas of the WWF? I don't recall hearing Bob Costas ever yell "and look at those puppies" during a broadcast.
Rob Van Dam takes on Lance Storm again...time for a bathroom break. Hell I think William Regal even had to use the bathroom during this match. They have some pretty weird toilets in Asia though. Or so I have heard?
The Coffee Checker? What a lame gimmick that is? Although it could be worse, that could be your actual job. I'm sure they had a guy or girl (I'm not sexist) that had that job in WCW.
Good Rock promo. How come they didn't show more Rocky Miavia highlights? Damn it though Smackdown is LIVE and I won't be able to see it.
I'm disappointed too Hulk. I was really hoping for an Andre the Giant vs. Scott Hall tonight. Oh well, the WWF staff must have done something wrong tonight. Vince doesn't put up with any crap. He doesn't give out warnings, he just has the NWO beat the shit out of them.
thetruth.com hurts. I mean it hurts to watch those damns commercials.
Speaking of hurts, Spike Dudley got his ass handed to him tonight by the NWO. Dave and I knew that Spike Dudley would be the mystery opponent. I was hoping for Barry Horowitz.
I don't know what is more shocking. Mark Henry showing up on RAW or Mark Henry really being "the world's strongest man".
I have a problem. I am obsessed with Stephanie's breasts. I think I saw a some skin irritation on one of them. Sigh, I won't tough her with a ten foot pole though. I mean Triple H would be the shit out of me.
Wow! Saliva and Drowning Pool will be playing LIVE at Wrestlemania XVIII. Now I know that this is being typed so I will tell you right now, I'm laying on the sarcasm really thick.
Is it Dave or is the entrance on the wrong side of the arena this week for RAW? Dave was sniffing glue before RAW though so that might have something to do with it.
Just kidding, Dave doesn't sniff glue. He does Heroin.
Why does the rules for the Steel Cage match always change? You used to be able to climb over the cage, or go through the door, or pin your opponent. Now you have to escape the cage. At least it is not like WCW, where you can get disqualified in a Cage match.
Somebody better explain the rules of a Cage Match to Stephanie though. The object to escape the ring, not stay inside.
Tonight's episode of RAW was watchable. I'm surprised that no one had a First Blood match tonight though. It seems like everyone was bleeding tonight. Great main event though. Kurt Angle vs. Triple H in the Steel Cage was great. No Vince McMahon either. Hell there wasn't any of Linda McMahon. And to quote DDP "that's not a bad thing, that's a good thing."
That's all for now from the Internet's only drug free column. Dave doesn't do drugs and I have given up chocolate and pop (NO, it isn't soda) for Lent. They have caffeine in them. Of course I drink and alcohol is a drug. So I guess that this isn't a drug free column.
Peace Out,
Dan Glamour