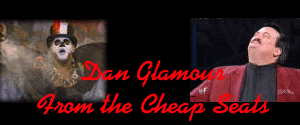 The Outside Influence-March 25, 2002
Dan Glamour here. I have this column called the Outside Influence. You might have heard of it.
Since I will be in Cleveland this week on Thursday. I will have a report on WWF Smackdown for Friday. I am going to try to do two columns a week. One for Tuesday and one for Friday. I hope you all enjoyed my Wrestlemania XVIII column and again I apologize for the lateness of the column.
Tonight's RAW starts off with Linda McMahon, that's not a good sign and good luck trying to get on WWF.com. Everyone and their brother will be going to WWF.com to see who else is picked. I suggest that instead of wasting your time on WWF.com, go to Lords of Pain to find out who went where.
Mr. Perfect thinks that he will be the number one pick? Not after losing to Tazz, he's not. Mr. Perfect should be lucky and glad that is he not the Road Dogg.
EDIT
Jake, who's not a regular wrestling fan, brings up a good point. Oh by the way the Rock was Vince's first pick. Wouldn't it be cool to have a wrestler named JESUS? The front of the JESUS shirt would say "Get Ready" and the back of the shirt would say "for CHRIST". JESUS' finisher could be the "Sacrifice" or the "Crucifix".
Do they get WWF Smackdown in Canada? SHUT UP ROCK!!!
WOOO!!! Ric Flair picked the Undertaker; nobody on the Internet saw that coming.
Jake needs to watch wrestling more often. WWF "Forcible Entry" sounds pretty derogatory. I mean why don't they just call it WWF Rape. It might be a mistake for a porno on DVD. Classic stuff Jake, keep it up.
Like I have said in the past, Vince is only as good on the microphone as the people whom he is interacting with. Kurt Angle made Vince McMahon bearable. Nice job on the part of Ric Flair for picking the NWO. So now all he has are a whole bunch of slow big guys and X-Pac. Vince picks up Chris Benoit.
Ric Flair picked Kane? Again all Flair has are a whole of big slow guys and X-Pac.
Vince picked Hulk Hogan, again nobody on the Internet saw that coming.
Thank God, that Ric Flair picked Rob Van Dam and Billy and Chuck are going to WWF Smackdown. In case you are reading this for the first time, we don't get UPN or WWF Smackdown here in Wheeling, West Virginia.
Rock and Hogan vs. the NWO, would everyone in the room please shut up about the conspiracy theories. Hogan is not going to turn on the Rock.
Kane makes the save for The Rock and Hulk Hogan? Looks like someone is getting a push. X-Pac needs to put some pants on too. That's the first time that I've seen him since the return.
Hey Ric and Vince, slow down on the picks. Ric picked Booker T and the Big Show. Damn it Ric, quick picking big slow guys. Vince then picked Edge and Rikishi.
Well it looks like its back down to Ohio Valley Wrestling for Rico. Lita looked hurt after the Jeff Hardy and Billy match. Lita is one of the few women that can actually wrestle too. Say hello to Mark Henry for me.
Todd was there when King Kong Bundy big splashed Little Beaver at Wrestlemania II.
Damn it!!! They split up the Dudley Boys!!! How could you do that shit?!? The Tag Teams in the WWF are lacking already and now the Dudley Boys get split up. That's bullshit!!!
Man, I wonder if Brock Lesnar could do that kind of shit to the late Yokozuna? Brock picked up Rikishi like he was nothing.
They are really picking these guys quick. Thank goodness, Ric Flair was able to pick Brock Lesnar. Does Vince McMahon think we are all idiots? Vince picked Mark Henry, so I guess that means Rico won't get to say hello to him when he is fired. Vince also ended picking Maven, the hardcore champion. Oh well, I won't miss Maven but I will miss the Hardcore Title.
Hey, Kurt Angle vs. Rob Van Dam, it is time for a bathroom break. I mean there has been so much WWF action this evening already.
I nearly had a heart attack when Chris Jericho and Triple H hit each other with the title belts. Stephanie was a second away from becoming WWF Champion. I really thought that it was a good match. I mean it had a lot of suspense build up. And now Stephanie will be off WWF television for a while too.
So tonight's RAW is getting a "Watchable" rating. The draft was interesting but the "Split" is going to be a terrible idea. Good main event too. Be sure to check out WWF.com to see which of the jobbers end up on either RAW or Smackdown.
Say Stephanie, if you aren't busy next Monday night….
Peace Out,
Dan Glamour