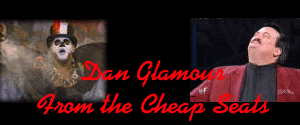 You can all breath a sigh of relief. "From the Cheap Seats" has returned. There has not been a column the past two weeks. Why? Well there are two reasons. First of all I did not see RAW last week at all. I was with some buddies at BW3 and instead of getting our wings to go, we stayed and watched a horrible Monday night football between the New York Giants and the Philadelphia Eagles. The week before that I did see RAWI was having a nice time and conversation with some friends before hand. Then RAW came on. Now you all know how I feel about the whole Katie Vick angle. It is a bad angle, period. The Triple H segment in the funeral home was not offensive to me at least because it was obliviously a manikin in the casket. The problem I had with it that it was a bad segment. Awful. In fact, I thought the entire program was bad that night. The highlight of the night was when Eric Bishoff traded the Big Show to Smackdown.
Here is one thing that I wanted to do two weeks ago. I wanted to give a shout out to Matt George and Steve Albrecht, who were able to join me at my house for RAW. I hadn't seen them in a long time so it was nice to get together with them. I hope we can do it again soon but I think that maybe we should wait until say…Thursday. Oh, Steve also brought a friend over. A girl. That's right, a girl. Her name was Stephanie and I felt like an idiot because I had to keep saying "Stephanie McMahon" when referring to Stephanie McMahon. Steve has also informed me that he and Stephanie are now an item. Nice. Stephanie is always welcome to wrestling anytime as well. Perhaps though Steve, next time she comes over Stephanie can bring some of her hot female wrestling fans as well.
Time to focus now.
RAW opens up with Eric Bishoff and Stephanie McMahon, making out. What is up with that? Smackdown is in fact the better program, just ask just about anyone. I wonder how this will turn out.
Jeff Hardy looks like a golfer on acid. The scary part is that Jeff Hardy is like this on real life. He is not on drugs but he is strange. I like the new name for Rosie and Jamal, "The Three Minute". There names freak me out. Not because they are Spanish names but because I dated a girl named Rosie. I always think of her when I hear the name "Rosie". She looks nothing like Rosie on RAW by the way.
Ivory is hot!!! I have always thought that. Now she is on RAW and she took on Trish Stratus. It was a regular old boring Women's title match. Ivory is a great wrestler but she's only back on WWE television because of Tough Enough 3. I also think that Ivory got breast reduction surgery or something. She looks different.
Can I start calling Victoria, "Jazz Junior"? She came down to the broadcast booth and said nothing. Jazz did this as well when she was feuding with Trish Stratus for the WWF Women's title. Women's wrestling is bad enough and now the WWE is using old plotlines that sucked when they first happened and still do now.
Another F-View segment that was pointless to the storyline and I still enjoyed to watch. Victoria was walking back to the lockerroom and Terri was trying to get an interview with her. Victoria just snaps and strips Terri of her clothes. I will tell you what, Terri's got a great body, even though she is probably old enough to be my mother.
Randy Orton has an RNN injury update and then he plugs his e-mail address. I wrote a letter to Randy Orton several weeks ago and I have yet to hear anything from him. You are just like people that read this column Randy. You don't want to write me. Bastard.
WWE Anthology looks great. I mean 86 theme songs from almost two decades of WWF-WWE wrestling. The problem is that if I really wanted all of these themes, all I would have to do is hop over to the internet, which is what you are on right now, and download them. Call me old fashioned though. I still like to pay for my music so I will be going out and paying for my copy of WWE Anthology. Hell I will even give it a plug. Go to http://www.wweanthology.com for more information.
There was actually a Triple H segment that I enjoyed. Triple H and Ric Flair go to talk to Eric Bishoff. Shawn Michaels is chasing me BLAH BLAH BLAH BLAH BLAH. I [Triple H] am getting treated like shit BLAH BLAH BLAH BLAH BLAH. Okay here is something good. Triple H confronts Eric about his make out session with Stephanie. I wonder where this Eric and Stephanie thing will go. It is very intriguing.
Okay I have an observation for you. Lance Storm has switched from pants to wrestling tights. Now here is the thing. There is a problem in the WWE, when the men stop wearing pants like Test, Lance Storm, or Bubba Ray Dudley and hot women such as Ivory, Victoria, or Trish are wearing pants. It is very simple. Pants on guys and shorts on girls.
Everyone keeps talking about this so called "Elimination Chamber" at Survivor Series. From what I have heard about it, two things can possibly happen. The "Elimination Chamber" can be a hell of a match or it can be one of the most confusing matches in the history of professional wrestling and that I have ever seen. I have heard that the "Elimination Chamber" is a combination of "War Games" and the "Royal Rumble". Didn't they already have a match like that? It was called "World War III".
It is about time that Test is starting to get interesting. Testicles? Man that ranks up there with Adam Bomb's "The Bomb Squad". Test cut his hair too. I heard that the WWE was giving him shit about cutting it. I guess Test "failed" to win that argument. The hair cut doesn't look bad though. I am just pissed that Stacey and Andrew (Test's real name) are together in real life. I bet you love your "Testicles" and so does Stacey.
Tonight's "Bathroom Match" is Batista vs. Justin Credible. I can't believe that Aldo Montoya was actually allowed on RAW. He didn't make much of an impact. Back to WWE Sunday Night Heat with P.J. Walker. Batista looks like a freak. That guy doesn't do steriods. Gees, did you see the veins coming out of that guy's chest. Batista won this squash match easily.
Did Booker T just say that? "Tell me he did not just say that". Booker T said one of my most favorite wrestling quotes. And ironically he said it to Triple H. Okay, okay it must just be me. Booker T started to say "Don't Hate the Player, Hate the Game" back in the day when he was a WCW World Champion. I always thought that Booker T was saying it to Triple H over in the WWF. Last night, he actually said it to Triple H. Beautiful. "Don't Hate the Player, Hate the Game" also spawned one of my favorite wrestling parody quotes. I might break that out later.
Booker T was also right about one thing. Triple H does think that he controls RAW. As my friend Mike Robinson pointed out, there were 4 or 5 segments that featured Triple H. It is getting ridiculous. Give other people a chance. Triple H is ruining RAW. If you disagree, then tell me what is wrong with RAW at UWAGLAMOUR@yahoo.com
Does anyone watch Tough Enough 3? It is not that I don't like that show. I just don't have time to watch it. From the highlights that I have seen, it seems that all of the instructors on the show have chips on their shoulders. Especially Bill DeMott aka Captain Erection aka Hugh Morrus. Could you imagine if Tazz was in the show? There would only be four episodes and nobody would win the prizes. Even the producers are pissed off. Big John sure reamed out Jill for quitting early on in the season. He kept saying it was his fault and you know what he was right. So quit whining about it.
Chris Jericho and Christian need to have more segments on RAW. Great conversation between them before Christian's match with Rob Van Dam. Speaking of which, that match wasn't that good. I am not saying that it was bad. It was too plain though. Rob Van Dam won. No run ins, no nothing.
Gee, I hope little children and adults don't get the "Elimination Chamber" and the Chamber of Secrets confused. I mean I thought the WWE would learn there lesson after the World Wildlife Federation (WWF) fiasco. Please don't cast a spell on the WWE, Harry Potter. "Don't hate the Panda, hate the Game."
More Tough Enough 3 backlash. Chris Nowinski cuts a promo against the city of Boston and then Al Snow comes down. All of sudden Maven attacks former Tough Enough 1 alumnist Chris Nowinski. So is Maven on RAW now? You know ever since contracts were frozen, a lot of new people have been showing up on RAW.
The main event was nothing special either. It was a decent tag team match between Booker T and Kane vs. Triple H and Chris Jericho. Shawn Michaels came down which was expected and gave "Sweet Chin Music" to Triple H.

OH MY GOD!!! Shawn Michaels accepted Eric Bishoff's proposal to enter into the "Elimination Chamber". Seriously, though I hated the idea of Shawn Michaels wrestling at Summerslam. I thought Shawn would not be able to go. Shawn did okay against Triple H. I am a little more comfortable with HBK now because they actually have a good storyline behind him. Shawn Michaels is looking for revenge against Triple H. Shawn will add a nice element to the "Elimination Chamber" match.
I would have to say that "I broke even" this week while watching RAW. Still a little too much Triple H but it was not horrible. Shawn Michaels is finally starting to interest me. The "Elimination Chamber" is looking interesting. Booker T is really starting to show championship promise. I think that F-View was okay. It sounds like G-TV to me.
Peace Out,
Dan Glamour