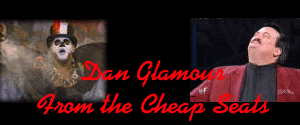 Hello, it is your fellow "I can't afford ringside seats" fan, Dan Glamour. Now I did not get to see Survivor Series last night because of Adelphia Cable for messing up our Pay-Per-View. I really hate cable box. And I am using the word hate here. My television viewing was just fine until the creation of the cable box. I can't tape a damn thing on my VCR because of it. Or maybe it is just the fact that I don't know how to program my VCR. I will be possibly viewing Survivor Series sometime in the near future.
Both the Perfection One and I were way off on most of our predictions. Big Show won the title probably because Brock is hurt. Paul Heymen did turn on Brock though. Let's see if the Big Show still sucks on Smackdown. The Guererro's won the World Tag Team titles in from what I heard was a hell of a match. Billy Kidman won and that might keep him off of Velocity. Victoria won but oh wait, who cares. The nicest surprise of the night was when D-Von Dudley reunited with Bubba Ray and Spike Dudley. And Shawn Michaels won the World Title in the Elimination Chamber match.
Now I was of the opinion that anyone other than Triple H as World champ on RAW was a good thing. But I might have been wrong. Shawn Michaels has said it himself. He is no longer HBK. Shawn Michaels is not the same person that he was when I left wrestling after Wrestlemania XIV. Shawn in my opinion just can't go like he used too. Now don't get me wrong, Shawn has been doing okay but the Shawn Michaels that I like is long gone. He won't put on good matches because Shawn will have to worry about injuries. There will not be a long time reign in Shawn's future.
Speaking of Shawn Michaels, Joanie and Sean are getting married. Oh wait a second let me tell you in terms of wrestling. Chyna and X-Pac are getting married. This is not a typo. I did not mean to write "Triple H" instead of X-Pac. Joanie and Sean are engaged to be married. They are following the same trend that a lot of my friends are. Now the Perfect One has had his say on the issue. Now it is my turn. I will have a special column on either Friday or Saturday. Now I am not going to say where I stand on the issue yet. You will just have to read my column and see.
Triple H suffered a throat injury. Now I normally don't condone injuries or physical harm to any human being. But come on, this could not have come at a better time. There will be less of Triple H in ring interviews and backstage segments because he can't talk. I would tell the Game to shut the hell up but what is the point. Another interesting point, what could Paul (Triple H) possibly be thinking about Joanie and Sean's engagement? I will make some comments about that as well in my special column.
Now enough about former WWE stars, let's talk about RAW.
Alright!!! No Triple H tonight at all. Thank you for telling us the good news Ric Flair. Now go out and get your ass kicked by Kane. Ric Flair needs to stop wrestling. I mean he's old and well he's old. And look at him, he's old.
Shawn Michaels and I agree on something. Shawn is not the same Shawn Michaels that he used to be. His body can't take the same punishment that it used too. Shawn will be too careful in the ring. Shawn should have given up the belt. He had his revenge against
Triple H. That would have been a good way to go out.
Thank you, Eric Bishoff. He brought up the famous "Shawn loses his smile incident" from Thursday RAW Thursday. He gave up the WWF World Title before he had to defend it at Wrestlemania XIII. I think the plan was to have a Shawn Michaels vs. Bret Hart rematch. Shawn didn't want to do it and that is how they resolved the situation. Bret Hart won the WWF World Title at the February In Your House entitled "Fatal
Four Way". He beat the Undertaker, Vader, and "Stonecold" Steve Austin. The Royal Rumble ended in controversey and these were the last four contenders in the ring at the end of the Royal Rumble. Bret would then lose the title to Sid, the next night on Monday
Night RAW. You know what I am going to stop because I just might keep going on about the WWF Title until the present day. I am an educated wrestling fan, just like Canadians.
Man, I used to love Monday Night RAW at the Manhatten
Center. It is hard to believe that RAW is ten years old. You can vote on your favorite RAW moment at
http://www.wwe.com
Some pretty good stuff to choose from. Now I don't want to sway your vote but please do not vote for Mae Young getting put through a table.
Finally D-Von is back with the Dudley Boyz. I can't believe that the WWE broke them up in the first place. Where does this leave Spike? I really could care less. I don't like the "human crash test dummy". A wrestler that is shorter than me and weighs less than me is not appealing. Well unless they are a woman. It was nice to see a real Dudley Death Drop (3D) on Rico for the win.
The WWE is really teasing the fans with whether or not Scott Steiner will be on RAW or Smackdown. I don't have a problem with this. It makes for good television. Scott Steiner better end up on RAW though.
No Test at all tonight. Stacey came out and asked the crowd what t-shirt ideas they liked. I smell a pinkslip on a poll. The slogans were:
I'm a Testicle (Front) Rub Me the Right Way (Back)
Take a Test Ride
I Love My Testicle
Oh great hear comes Steven Richards. This guys is totally worthless now. I liked him in Right To Censor but he hasn't done anything since. Winning the Hardcore Title does not mean all that much. Steven came out to confront Stacey about last week's caning.
Stacey fired a t-shirt cannon right at Steven's "mommy and daddy button". That's got to hurt. I hope "Good Old J.R." was wrong and that Steven was wearing a cup.
It is official, Victoria is now Jazz Junior. Let's see here, Victoria is a pyscho woman's wrestler, who after beating Trish Stratus for the WWE Women's title goes out and hooks up with Steven Richards. Sound like anyone we know before they got hurt? At least
Victoria is hot though.
My Bathroom match for the evening is Tommy Dreamer and Jeff Hardy vs. William Regal and Lance Storm. All of these guys' careers are going no where fast. RAW needs to do a couple of things. Bring back the WWE Hardcore Title and have Christian and Chris Jericho defend their tag team titles on a more regular basis.
Hmm...a Chris Jericho and Scott Steiner feud. I like that sound of that. Scott Steiner came out and addressed the crowd but he was interrupted by Jericho. What a great heel Chris Jericho is? Did anyone else notice that Scott Steiner's mic skills were a little weak? Maybe it was just me.
Pointless Woman's Title match. Did anyone really think that Stacey had any chance in hell (apologies to Vince) in beating Victoria? Short and ugly match. Nobody comes to watch Stacey wrestle. Trish would come down and continue her long drawn out feud with Victoria. Steven Richards still sucks.
If I went to The World in New York to watch WWE RAW and Maven from Tough Enough I was the guest WWE Superstar, then I would be pissed.
Al Snow and Chris Nowinski actually had a good Hardcore match. The School of Hardknocks match had some good weapons in it. Chris even brought a skeleton into the match. Watching Al Snow smash that chalkboard into Nowinski's head was hilarious. Good match surprisingly.
Batista vs. Kane feud. It is about time that they got something going for Dave Batista. In my opinion a Four Horsemen reunion is getting closer to happening. Ric Flair will be a big help to Batista's career. I hope that Kane does not get lost in the shuffle though
because he deserves to be towards the top of the card.
Chris Jericho's tights were horrible. Now it is not like I am starring at Jericho's tights but they just looked awful. Purple and what was that like an Oil of Olay color?
A decent main event. It could have been better. Of course I think that Chris Jericho, Booker T, and Rob Van Dam were not up to par because they all participated in the Elimination Chamber match at the Survivor Series. So I will let it slide. I was good
though don't get me wrong.
So it will be Rob Van Dam vs. Shawn Michaels next week. I just hope that this match will be better than I think it will be. HBK vs. RVD would be a great match. The problem is again that Shawn Michaels is not HBK anymore.
Good RAW tonight. I definately broke even this evening. No Triple H means a better RAW. The proof was in the show. See you again this weekend as I talked about the Joanie Laurer and Sean Waltman engagement.
Peace Out,
Dan Glamour