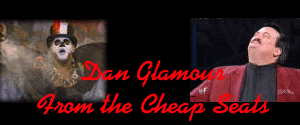 "
Spin the wheel, make the deal! Spin the wheel, make the deal!"
Sorry, I was having a WCW Halloween Havoc flashback. Although come to think of it, I never actually watched a Halloween Havoc on pay per view. I am up on my PPV events. The only two "Spin the Wheel, Make the Wheel" that I can recall were Sting vs. Jake "The Snake" Roberts and Cactus Jack vs. Big Van Vader.
I had always liked the idea of spinning a wheel to make a stipulation for a match. Finally someone has decided to bring this idea. Better late than never I guess for RAW Roulette. This whole taking a chance thing is like how the WWE has been lately. You take a chance whenever you turn into RAW or Smackdown and the way that WWE pay per views have been, you are definately taking a chance.
Did you see the picture for a "Falls Count Anywhere Match"? It is a picture of a guy falling down a set of stairs. Hillarious.
The first match of the night is a steel cage match. So I guess the wheel is fixed. I mean you can't set up a steel cage in two minutes. The Big Show in the opening match against Booker T? Send the Big Show back down to Ohio Valley Wrestling or better still release him. The Big Show gets an interesting story line once in a blue moon. Can anyone remember the last time that anyone cared about the Big Show?
Looks like Booker T vs. Chris Jericho at No Mercy. Jerihco attacked Booker T after the match. It should be a good match because Chris Jericho is no sucka.
Kane and The Hurricane in a Tables, Ladders, and Chairs match for the tag team titles. Eric Bishoff picks . Kane thinks that luck is for losers. I would like to wish the Pittsburgh Steelers good luck next week.
When your band is named after a Muppet, then your band sucks. Fozzy does suck.
Triple H wants a blindfold match with one of the Las Vegas dancers. Sign me up, I want a blindfold match with a Las Vegas showgirl. Of course I also want to have a blindfold when William Regal and Goldust wrestle each other dressed as Las Vegas showgirls. Does that mean that they will strip down just like Elizabeth Berkley?
Bastita is coming to RAW. Who the hell cares.
Triple H and D'Lo Brown in a blindfold match. They ccertainly are not Jake "The Snake" Roberts and "The Model" Rick Martel. Half of the audience in Las Vegas has probably never even seen the blindfold match at Wrestlemania 7. The first blindfold match that I saw for those keep score at home was "The Model" Rick Martel versus Koko B. Ware. Nice ending to the match though as Ric Flair distracts the referee while Triple H peaks out of his mask.

Goldust vs. William Regal in a Las Vegas Showgirl match is my bathroom match of the night.
I remember the Forgotten Tables, Ladders, and Chairs match from Smackdown. Chris Jericho and Chris Benoit vs. The Hardy Boys vs. the Dudley Boys vs. Edge and Christian. It was a great match. I think that Chris Jericho and Christian would make an excellent team together.
Gees Bubba, why would you pick Spike Dudley over Tommy Dreamer in a Tables, Ladders, and Chairs match? You can kiss any chance of winning the match good bye. Talk about trading down.
Oh well, I was hoping for an Inferno match between Trish Stratus and Stacey Kiebler. Instead it is a Paddle on a Pole Bra and Panties match. Now you know how I feel about Women's matches. I have two other complains though. Again Trish, please do not wear pants and second, your new music sucks. I would rather listen to your old T&A music. T&A means Test and Albert.
Now I know that it is two hot chicks wrestling each other but I am not that attracted to Stacey. I am a breast man. I have a pair of legs but not a pair of breasts. Get it? Now Victoria has both.
Victoria is hot. I wish they would develop her character more. It looks like they are starting to because she has a grudge with Trish. Please let them be former lesbian lovers.
Now I am confused once more. Al Snow is now on RAW too? I thought that all contracts were frozen after Unforgiven. Of course it is not like Bastita and Al Snow have been major players on Smackdown.
Oh, Al Snow battled Test in a Las Vegas Streetfight. Did anybody else see that? Test slipped on the bowling bag. Test deserved to get the beating that he took from Al Snow.
Jerry Lawler is wrestling? But RAW isn't in Memphis. Jerry faced Steven Richards in a "It's Legal In Neveda Match". Now the Godfather also made an appearance with the hoes. Confused? Prostitution is legal in Neveda. "The King" wins this match because nobody wants to see Steven Richard with a whole bunch of hoes.
Randy Orton is still too plain. Randy needs to wrestle with a cast on his wrist, turn heel, and wear a cowboy hat to the ring. Thanks Dad. And Randy gets all the chicks too. Did you see all of those ugly New York chicks lining up to get Randy Orton's autpgraph?
Man, I bet that Terri was pissed at the Coach. Instead of making out with Terri, Kane had to run to the aid of the Hurricane. Triple H and Ric Flair beat the shit out of Gregory Helms. It took Kane an awfully long time to get to the Hurricane too.
An impressive main event. Kane/Hurricane versus Jeff Hardy/Rob Van Dam versus Christian/Chris Jericho versus Bubba Ray Dudley/Spike Dudley in a Tables, Ladders, and Chairs match. The match went a good twenty minutes.
Everybody was taking some great bumps this week. Rob Van Dam hit Kane with the Van Terminator. Classic. Bubba Ray superplexed Jeff Hardy off the ladder. Spike pushed Jericho off of the ladder and on to the outside. Did anyone else notice that the belts were being moved around too?
And then Christian and Bubba moved into position for a Frog Splash and Swanton Bomb. To quote Jim Ross "what carnage in the ring tonight". Kane won the match even without the Hurricane.
Who is Katie Vick? Haven't we already seen this storyline before. Was Katie with the Undertaker's parents in the house that burnt down? Where is Paul Bearer when you need him? Is Katie going to come back from the dead and start beating the shit out of people in order to get Kane to fight her?
I liked RAW this week. This whole Las Vegas style show has been good. A whole bunch of people returning tonight. Batista, Al Snow, and the Godfather all made their returns to RAW. We all got to see Stacey Kiebler in her bra and panties but then we also had to see William Regal dressed as a Las Vegas showgirl. Another good TLC match. I don't think there is such a thing as a bad TLC match though. Does anybody really care who Katie Vick is anyway? RAW gets a watchable rating this week. Looks like my bet to watch RAW paid off this week.
Peace Out,
Dan Glamour