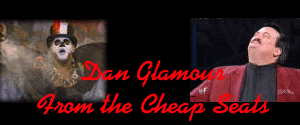 Well, well, well; look who is back!!! That's right, Dan Glamour is back on the Internet and but a lass I am still watching RAW from the cheap seats.
I will briefly explain my absence from the Outside Influence. It is really quite simple and it boils down to two simple things. I did not have time to write a column and I did not have same enthusiasm to write anything. The WWE is in a decline at the moment. WWE Unforgiven has given me a shimmer of light. I was very impressed with the PPV especially with the WWE Disputed Title match with the Undertaker and Brock Lesner.
It is now the WWE "Disputed" Title right? Brock doesn't defend the title on RAW and now Triple H has the World title now. So whenever I talk about the Disputed Title. I am referring to the title that Brock Lesner has.
Now on with the show....
I am sad to say (no I am not) that I missed the first twenty minutes of RAW. I went out to dinner with some friends to a bar called the Winking Lizard and yes they actually have a lizard at the bar.
I came in as the Island Boyz was whooping Booker T. Booker T and Goldust are two good things about RAW right now. There should be more Booker T and Goldust skips. I also like how the Island Boyz and Booker T/Goldust feud is going.
Christian vs. Lance Storm? Certainly looks like the WWE is moving in that direction. I think that if the Un-Americans break up then all of their careers would become useless again. Test, William Regal, Lance Storm, and Christian make a good team as much as I hate to admit.
Randy Orton doesn't really belong on RAW although it seems like he is getting a push. Randy is just too plain. He is not a bad wrestler but he is just plain.
I am sick of having one guy wrestle in two different matches. Randy Orton beats both Lance Storm and Christian. Christian is hilarious in a cowboy hat. A Canadian Cowboy? Hmm...
So Flair is dealing with Ex-Smackdown talent. I thought that all contracts were frozen? I am really getting tired of all the talent jumping from show to show. They show just end the split now from the utter failure that it is. The WCW/ECW Invasion failed and now the RAW/Smackdown Split failed.
Oh great it is Jeff Hardy vs. the Big Show again. Let me see what is wrong with this match. The Big Show is more than half the size of Jeff. The Big Show sucks. The Big Show needs to go to Sunday Night Heat or some other syndicated show. Jeff Hardy is a freaking weirdo too. Take a look at the latest edition of RAW magazine to see what I mean. Oh and Jeff QUIT WEARING THAT GLOW IN THE DARK S&#%!!!
I ignored the HHH vs. Bubba Ray Dudley match. I need to use the bathroom and such. Typical ending though. Ric Flair comes down and interferes in the match. Triple H retains the title.
Trish gets the shit kicked out of her by Victoria. Victoria is hot!!! I really like Victoria and I would watch any match involving her. I hope that a Bra and Panties match or a Bikini match is in her future. Victoria gets disqualified by hitting Trish with a thunderous chair shot. It was just another worthless Women's Title match though.
Finally somebody decided to bring back the "Wheel". If you recall from the WCW days, they had a PPV in October called Halloween Havoc. The main event of the card was a Spin The Wheel, Make the Deal match. There was a wheel that had a whole bunch of stipulations on it. The wheel was spun and whatever match it landed on was the match that you would wrestle. Forget a "Kiss My Ass" match or a HLA match, I want to see Trish vs. Stacey in an Inferno match. I guess that is just my sick perverted side talking.
What a boring match between Tommy Dreamer and RVD against the Un-Americans Test and William Regal. Bring back the Hardcore title or the European title.
So Kane could be a Tag Team, Intercontinental, and World Champion at the same time. And you are wrong JR, Kane could become the Women's Champion. Just ask Harvey Wippleman.
It is Vegas Month on TNN in October. I guess it makes sense since the WWE will be in Las Vegas, Nevada for RAW next week. Mike Tenay, tear. Hell it seems like everyone will be in Las Vegas in October. My parents will be there too. Of course I am the only one who has never been to Las Vegas in my family. Damn it!!! I'm not bitter or anything though.
Kane actually won the Intercontinental Title!?! I am kind of surprised although I didn't expect to see Jericho vs. Triple H again. Again what a stupid idea to unify the Intercontinental and World Titles. Hell all these goddamn Intercontinental unification matches are dumb.
Hell I am confused about how to rate this program tonight. Mike was over my house to watch RAW so I guess I would have to say "If This Keeps Up Mike won't be coming to my house for Wrestling". RAW was not very good. The highlight of RAW was seeing Trish in her bra. And for god sakes stop wearing pants Trish. I don't mean that she should wear nothing or maybe I do.... anyway Trish the dish looks better in shorts.